Veneers to Help Improve Your Smile
Simple and versatile, affordable porcelain veneers can dramatically improve your smile.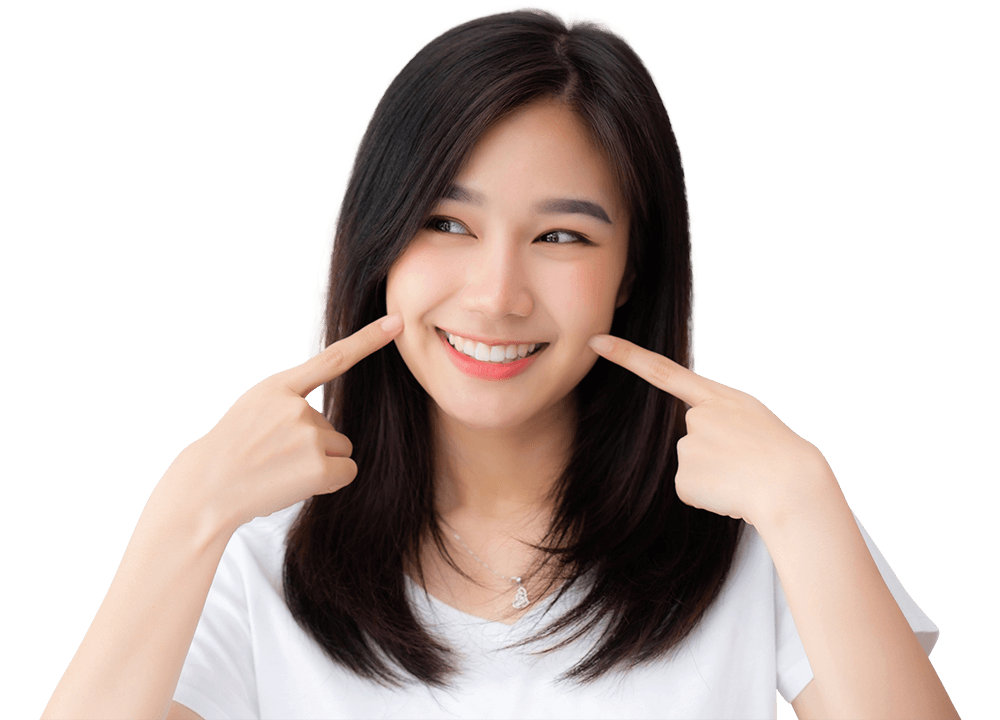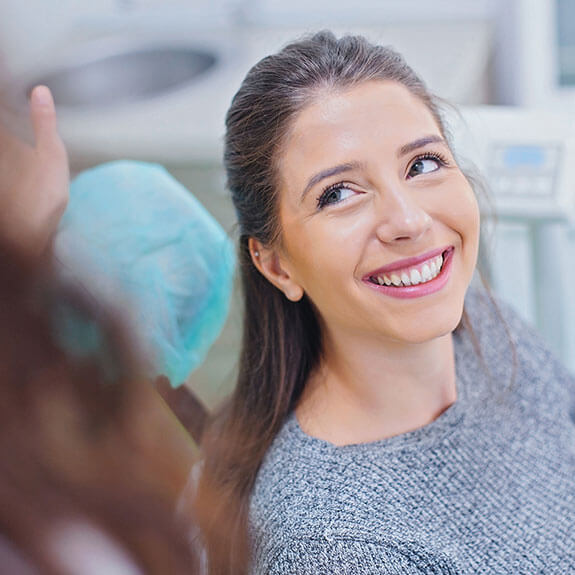 Why Veneers?
Dental veneers are made from thin pieces of porcelain crafted to the shape of the tooth. They are bonded onto the front of teeth to create a beautiful and attractive smile.
Typically considered a non-invasive cosmetic dental procedure, there are many benefits of custom veneers. A significant advantage is that they will match the color and texture of your natural teeth - they feel natural. Additionally, veneers can:
Help align crooked or misaligned teeth
Enhance the appearance and improve the surface of your teeth
Close gaps and unwanted spaces between teeth
Reshape and repair teeth that have been chipped or damaged
Enhance your smile
Whiten discolored or stained tooth enamel to create a beautiful uniform smile
Correct teeth that are too small or large
What to Expect
Before

Treatment

Getting veneers for your teeth can change your entire appearance. You will need to pick out the kind you want before your first dental visit. The different types are:
Lithium disilicate: A durable dental porcelain

Pressed ceramic: Strong and thicker than other types of veneers

Stacked ceramic: Customizable veneers using stacked ceramic
Talk to one of our dental professionals to see the best options for you. Free veneer consultations in our CT dental offices are always available.
During

Treatment

Getting dental veneers usually requires two visits to complete the process. The teeth are prepared by lightly buffing and shaping the surface to allow for the thickness of the veneer. A mold or impression of the teeth is taken, and a shade match is determined by you and the dentist.

On the second visit, the teeth will be cleansed with special liquids to allow bonding cement to adhere between the veneer and the tooth. A special light beam is used to harden and set the bonding cement.
After

Treatment

Here are a few things to keep in mind after your first veneer appointment.
Porcelain veneers, on average, last 10-20 years when taken care of properly.

Your new smile will be permanent and will last many years.

However, just as natural teeth can become damaged or worn, the same can happen with porcelain veneers.

You should practice regular brushing and flossing just as you would with natural teeth to prevent cavities and stains.
Your First Visit
Your first visit is to prepare your teeth for the veneers. They will be cleaned and shaped so that the veneers will fit perfectly over them. Once the color, size, and shape have been determined by you, the dentist will then send a plaster cast to the lab. You will receive care instructions from our dental office after the veneer procedure is complete.

Modern Dentistry
You can find all the latest technology at our Connecticut office.
Judgment-Free Office
e're here to help you feel confident in your smile. We provide a safe, judge-free zone for any dental issue or concern you have.

On Your Schedule
Taking care of your dental health should fit within your schedule. We have flexible hours so you can get the care you need.
Are you worried about the cost of a visit to get veneers? Don't panic. We work with your insurance plan and offer flexible payment plans for your convenience.








No Insurance?
No Problem.
Making An Appointment Is Easy
Don't have insurance? That's not a problem with us. We offer payment plans and accept most major credit cards, personal checks, and more.
I am very nervous when starting with new dentists or doctors in general. I was pleasantly surprised how kind,patient and professional the staff were. The Office was immaculate. Dr.Furman was so kind, patient, skilled and explained the procedure in detail with me. I would rate this experience as the best I've ever had.
I have such bad anxiety about the dentist and her at Sunrise Family. My feelings are heard and they take the time to help me through it so my dental needs are meet. Dr D has been my one and only dentist for 20 years
I had not seen a Dentist since the start of Covid so I was hesitant. My wife reassured me that Sunrise was exceptional so I've just finished my first visit and she was correct! Everyone was friendly and helpful. Very professional and highly recommended!
I had an emergency visit when they were already booked up for the day. They squeezed me in and went above and beyond in care. 10/10 would recommend. SHOUT OUT TO MARI for hooking it up!
I have extreme fear of dentist. Everyone was amazing with me and made me feel very comfortable. Dr D is very patient and took time to explain everything. Looks like I will finally be getting a nice smile. Thank you Sunrise Dental
Aiysha was absolutely wonderful today. Not only does she clean my teeth and gums but she is so caring and I know every time that I am getting the best care! She also made sure to help me get them white for my special day. She is personable and cares about her patients! I love her!
First time coming to this office for my sons cleanup and I have to say I was beyond impress. The office was clean and the staff was very friendly. They took their time and told me and my son what they were going to do step by step. Definitely a great office I would recommend.
Dr. Deros and his staff took excellent care of me and made a not so pleasant root canal tolerable and easy. Dr. D is very skilled, straight forward with treatment options and I feel I can trust this practice. I am very please with my hygienist there and the dental assistants are wonderful.
Sunrise family dental is a great place to bring your family for a great dental cleaning. They make you feel very comfortable, they treat you like family and the staff is always ready help you with any concerns or needs you may have.
I came in here sometime last week, and I can't stop thinking about how nice my experience was! Ashley at the front desk was super sweet and helpful with all of my questions. She was very professional and made me feel welcome and because of her I'm sure the rest of the staff is wonderful as well. I will definitely call to schedule my appointment once my schedule clears up!
FAQ
Frequently Asked Questions
What are some benefits of having veneers?
The procedure is minimally invasive, and most people find it pain-free. The advantage of veneers over full crowns is that less of the original tooth is removed during preparation.